Graphene's Talent Empowerment Services (TES) is a unique offering which is rarely seen offered by other design service providers in similar domain. Aimed at empowering today's fresh engineering graduates to raise their technical knowledge in line with Semiconductor industry expectations, the TES offers them a reliable and fast-track path to become employment-ready.
Simply speaking, the TES program is aimed at eliminating the vocational knowledge gap of a fresh engineering graduate to quickly get him "industry-ready". The TES training modules have been designed by experienced industry professionals who are well aware of the dichotomy between classroom curriculum and real employment aptitude. The training program is therefore appropriately structured to expose the students to key industry concepts, imparting intense training on the latest and most advanced technology tools, while also allowing them to network with industry mentors with an opportunity to land with a dream job on graduation!
The net benefit : A "Graduation-ready" engineer can jump-start his professional career by becoming "Industry-ready" in quick time!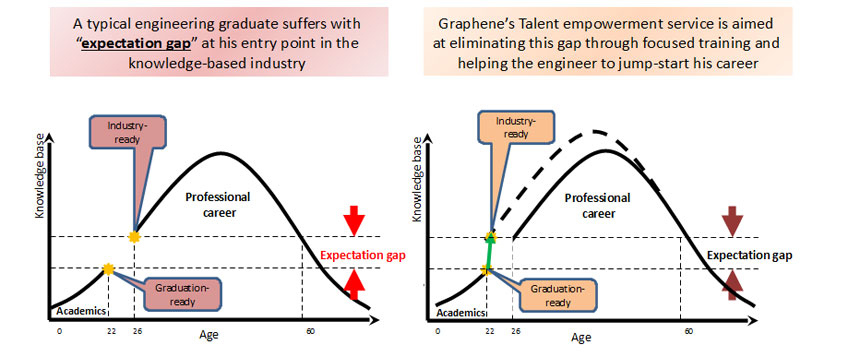 The service is offered in three forms:
University aligned training (currently in operation with 3 Institutions)
Graphene certification program
Graphene academy of semiconductor design
This offers following benefits to trainees:
Assurance of successful training & coaching to complete the BE/ME SDP
Industry exposure, understand challenges, real issues and solve real problems
Mentoring by Industry practicing professionals
Flexible duration and timing to suite student's academic committments
Individual attention and one on one counselling to decide on project scope
Student benefit by: ( using VLSI Verification as an example)

Student gets access to IP/DUT to be used for development
Understanding the real solution being implemented
Build confidence to exhibit their strengths during placement
Higher levels of expertise in Domain and Skills to face industry challenges
Ability to write better code due to constant mentoring
Larger perspective of Design and Verification challenges
Assessment feedback on the performance of each student
Assistantship to faculty members if required during the project work
Certificate on successful completion of VLSI training attendance